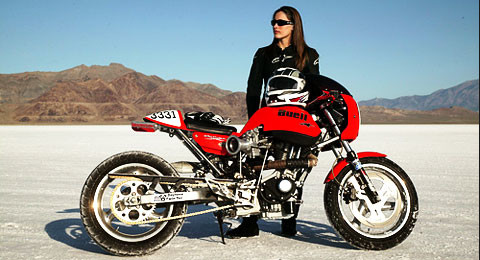 Sport:

National Land Speed Racing, Bonneville Salt Flats

Birthdate:

11.09.93

Hometown:

Mitchell, South Dakota

Ride:

Buell Blast, Buell XB9 Firebolt

Style/Inspiration:

I started riding naturally, at about 5 years old, as my mom, sister and family all ride. I took the motorcycle safety course with my mom as instructor. My sister, Erika, raced on the salt the year before me, so she was able to tell me what it was like and give me some suggestions. I get real small on the Buell Blast and learned from a long time racer named "Santa Claus" that if I sit on the tail section of my bike and push my back up I could go faster. We learn from a lot of people around us. I'm aggressive, competitive and I love to go fast. This year I was signed up to ride a 200 mph V-Rod, but it had motor trouble before I got my chance. It was fun practicing on it though! I have a goal of being in the 200 mph club.

Favorite Track/Location:

Bonneville Salt Flats - Wendover, Utah

Height:

5' 5"

Weight:

105lbs.

Accomplishments:

National Land Speed Record Holder, 2008, 2009. Youngest to ever set a record on the salt at 14 years old in 2008. My mom, Laura Klock, and sister Erika Cobb, and I are the FIRST mother, daughter, daughter trio in the history of land speed racing to hold records at the same time.

Favorite Z1R Helmet/Apparel:

The Venom Sabre Helmet. Team Klock Werks wears the Venom Sabre full face, color: Firecracker. I love our new Z1R helmets! I wear my race helmet when I ride on the street too. It's comfortable and light weight.