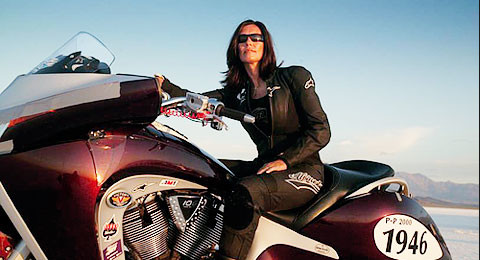 Sport:

National Land Speed Racing, Bonneville Salt Flats

Hometown:

Mitchell, South Dakota

Ride:

1991 Softail (customized), 2008 Victory Vision

Style/Inspiration:

I try not to compare myself to anyone as we are all unique and each have our own purpose and style. There have definitely been influences in my years riding that start with the kids I rode dirt bikes with as a young girl to my friends I've ridden all over the country with as I've grown older. I ask a lot of questions and love to learn more about each motorcycle I ride. I love watching people ride and race all types of machines. My racing career has been on touring bikes, so I don't have to tuck as small as my daughters do for instance. So, I guess if you asked them they would say when I race I look like I'm going for a Sunday ride, just cruising down the track!

Favorite Track/Location:

Bonneville Salt Flats - Wendover, Utah

Height:

5' 10"

Weight:

150lbs.

Accomplishments:

National Land Speed Record Holder, 2006-2009. My daughters, Erika and Karlee Cobb, and I are the FIRST mother, daughter, daughter trio in the history of land speed racing to hold records at the same time.

Favorite Z1R Helmet/Apparel:

The Venom Sabre Helmet. Team Klock Werks wears the Venom Sabre full face, color: Firecracker. I appreciate the moisture wicking liner when you are baking in the sun at the salt flats, and also love how lightweight the shell is. For everyday riding I wear the Ace Starbrite in black because I like a little more air, but also love the full length of the face shield.