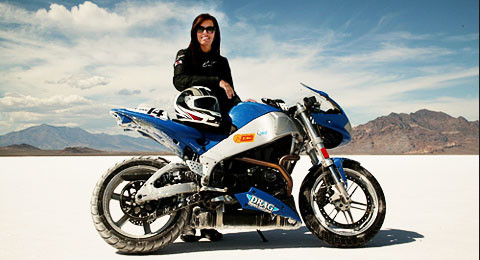 Sport:

National Land Speed Racing, Bonneville Salt Flats

Birthdate:

9.29.90

Hometown:

Mitchell, South Dakota

Ride:

Buell XB9 Firebolt

Style/Inspiration:

I started riding dirt bikes when I was really young – so kind of just did my own thing and I loved to goof off! My mom coached me on how to ride on the street, and then when she became a motorcycle safety instructor she had my sister and I take the class. I didn't really have an example for land speed racing besides my mom, but she rides a different kind of bike, so I asked lots of questions. From racing for the last few years on the salt, I've developed a style based on the kinds of bikes I ride. You have to "get small". I would say I am an aggressive rider and that I listen closely to the bike and pay attention to the surface of the salt to decide how far I will push it.

Favorite Track/Location:

Bonneville Salt Flats - Wendover, Utah

Height:

5' 7"

Weight:

120lbs.

Accomplishments:

National Land Speed Record Holder, 2007, 2008, 2009. Winner of the "Women's Spirit Award" given on the salt in 2007. My mom, Laura Klock, and sister, Karlee Cobb, and I are the FIRST mother, daughter, daughter trio in the history of land speed racing to hold records at the same time.

Favorite Z1R Helmet/Apparel:

The Venom Sabre Helmet. Team Klock Werks wears the Venom Sabre full face, color: Firecracker. I really like how light it is and that I can tuck behind the windshield of my Buell really well with it!